We boarded a short fifty minute flight from Dalat to Hoi An. The alternative option was a two day car trip. I must say that my sister Beth is the most enjoyable travel mate you could ask for. She is always cheerful, happy to undertake anything, and has a special gift of making the best of every day.
We arrived at our new home for the following four days at the Pho Hoi Riverside Resort, overlooking the river across from the Hoi An historic district.
The town is a World Heritage site known for its long history and Chinese, French and Vietnamese influences and traditions. The beauty of the historic district is that there are no cars or motorbikes, making it a pleasant town to walk around. Hoi An is known for custom made clothing, and I had a few awesome shirts made as well as a new pair of leather shoes. Bicycling is the best way to explore the town. We also toured Cam Nam Island and discovered rice paper tortillas being dried in the sun.
Daily walks through the market and seeing all the stages of edible meat– baby chickens, grown live chickens tied up on the floor waiting to be killed and just the raw carnage– makes you want to become a vegetarian. But keep in mind the meat of southeast Asia is raised in a much more humane way than in our country. I think if we saw our own meat processing practices "in the flesh" so to speak, we would all eat less meat.
Oh, I almost forgot to mention the many epic restaurant experiences. We went to The Cargo Club for three meals. On the first visit we had the most incredible dinner of eggplant parmesan, a curry hot pot and a side of vegetables. Beth said it was the "best meal of my life."  Wow, what an endorsement! It is also known as a favorite destination of Mick Jagger.
Please check out MY FAVORITE VIDEO!!!  Believe it or not, this was shot in one long rolling take with an iPhone!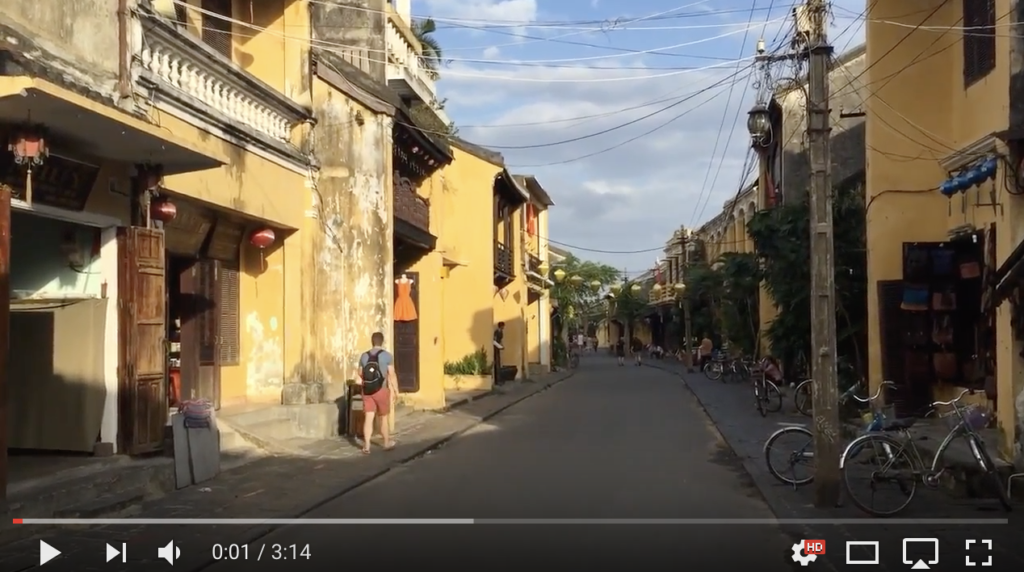 My math skills are not the best, so I devised a high tech calculator for converting Dong to dollars:  a custom money clip. At current exchange, one million Vietnamese Dong is $37.50 US. So, arguing over a few thousand Dong has to be kept in perspective. My rocking custom tailored shirts set me back about $40.00.
Hoi An has been the highlight of this trip. Our next stops are Cambodia and Angkor Wat.
Best,
Gary